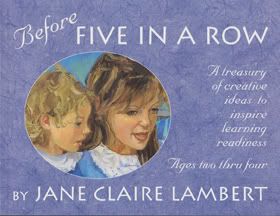 (BFIAR) Before Five in a Row
"

What is Before Five in a Row

? Let's begin with what it isn't. It isn't a curriculum. Neither is it an aggressive, academic training regimen designed to turn your pre-schooler into a scholastic super-achiever. It is a rich treasure of creative ideas designed to help you gently, consistently prepare your children for the life-long adventure of learning. For children ages two to four,

Before Five in a Row

is better than a curriculum!"
What a breath of fresh air! An author that doesn't want to turn your young child into an Einstein speed reader who can divide fractions, balance your checkbook and paint abstract art!
Author Jane Lambert goes on to say that this book is written from a pre-learning point of view. "The point is not so much to instruct or teach as it is to have a happy introduction to books, provide an interesting light introduction to many different topics and to build intimacy between reader and child."
Before Five in a Row
is divided into 2 parts. The first part of the book is chock full of ideas and activities for a selection of 24 children's literature books. Each book has a fresh list of activities, and "discussion" ideas. I don't think I came across two exact suggestions!
The second part is a resource to help prepare children for learning through everyday activities. Included are: Activities for Reading Readiness, Coordination, Bath Time, In the Kitchen and At the Store.
My youngest will be two years old in two weeks. While he is too young to appreciate these timeless stories, he does enjoy the pictures, sound of my voice and engaging with me and his siblings through play and discovery.
Choosing my favorite out of the list of 24 books, here's how I might use the helps for Caps For Sale.
* Read story as long as attention permits
* Go back through and comment on the pictures
* Read Proverbs 6:10-11 and "discuss".
* Counts the hats. Count each color. Count the monkeys.
* Try balancing a book on our heads.
* Talk about mustaches and seek out other mustaches in magazines and real life.
* Study and "discuss" the trees in the book.
* Talk about how the man feels at various points of the story.
Before Five in a Row is a wealth of ideas to draw you and your toddler/preschooler closer through book and activities.
"Above all, the time between ages two and four should be a time of sharing, hugging, reading, signing, dancing, puzzles, blocks, outdoor excursions, swinging high, playing in the sand box and enjoying fascinating introductions to the wonderful world of life".
At $35 it would be one of my more pricey purchases. But, considering the amount and depth of usable material contained between the covers, it world be a purchase I would gladly make!
Visit the Before Five in a Row website at:
http://www.fiarhq.com/
to learn more about other FIAR products such as: Five in a Row, Beyond Five in a Row and Above and Beyond Five in a Row.
Disclaimer: I received this item for free in exchange for an honest review!