Since
Big IQ Kids
won a blue ribbon during The Old Schoolhouse's 2010-2011 Crew Review Season, I was very interested in checking out this online program that concentrates on Spelling, Vocabulary, Math and U.S. Geography for elementary students for myself!
"BigIQkids.com turns your computer into an online learning academy by providing daily academic lessons for young learners in an interactive, easy to follow format. For the best results, children should log into BigIQkids.com daily and complete their lessons and quizzes. This "daily" strategy builds invaluable study habits, leads to better grades and greater self confidence. "
I have to admit that I had some technical difficulties with this website and my computer. Working closely with their knowledgeable and friendly technical support, I was able to access only some of the parts of this website.
Big IQ Kids Spelling
Instead of reviewing their newest versions of Spelling and Vocabulary programs, I was able to tryout Spelling Junior. I have to say, that it was easy to use and my kids liked it. You can choose between grade level appropriate preloaded lessons or input your own list. I personally didn't like their lists because the words they choose had no rhyme or reason --- they weren't word families nor followed any phonetic rules. Once the words are loaded, there are 5 fun activities (or steps) per week. After the first day, your child has the choice of skipping right to the 'Pop Quiz'. A score of 100% puts him/her in the "100% Club" and forwards them to the next lesson.
In the past we've steered clear of online spelling programs because they didn't seem to aid in retention. I've seen promising progress with my 3rd and 5th graders and will continue to use this part of the program. The earning of coins after completing lessons and playing of games afterwards may have something to do with this. I'll be curious to see if their excitement continues throughout the year!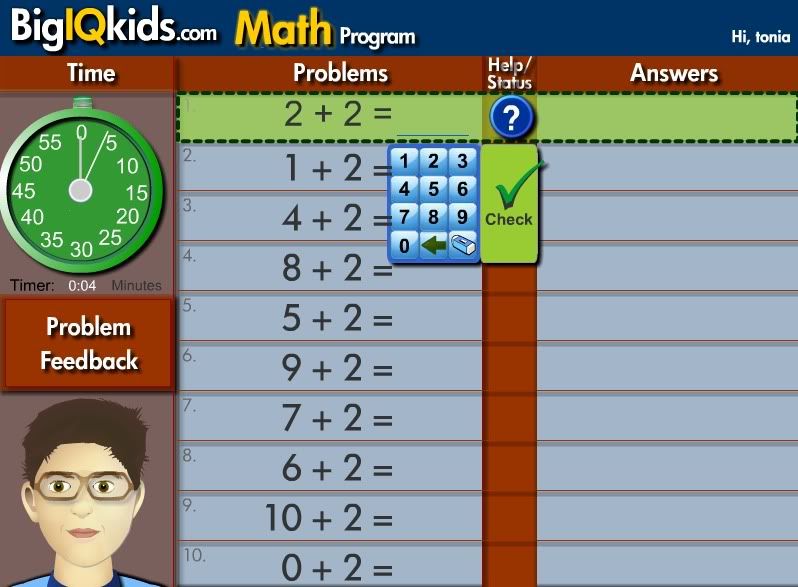 Big IQ Kids Math

My kids thought the Math section was 'ok'. They've done many drilling programs in the past and the one nice thing about this one is that it was very easy to customize to your child. You set the number of questions, the function (s), number of digits and percentage of each function you want your child to do. For example, for my 3rd grader, I set it to 50 problems, doing 25% two-digit addition, 25% one digit subtraction and 50% one digit multiplication. Timed tests are also customizable.
From their website: You can set up a child's lesson to mirror what they are doing in their current curriculum. For example, if the child is on double digit addition and single digit multiplication, the program can focus on just these two areas providing invaluable practice and reinforcement that is certain to provide them with the tools to ace their next test. Or, BigMathTime can automatically generate grade specific and subject specific lessons as per your requirements.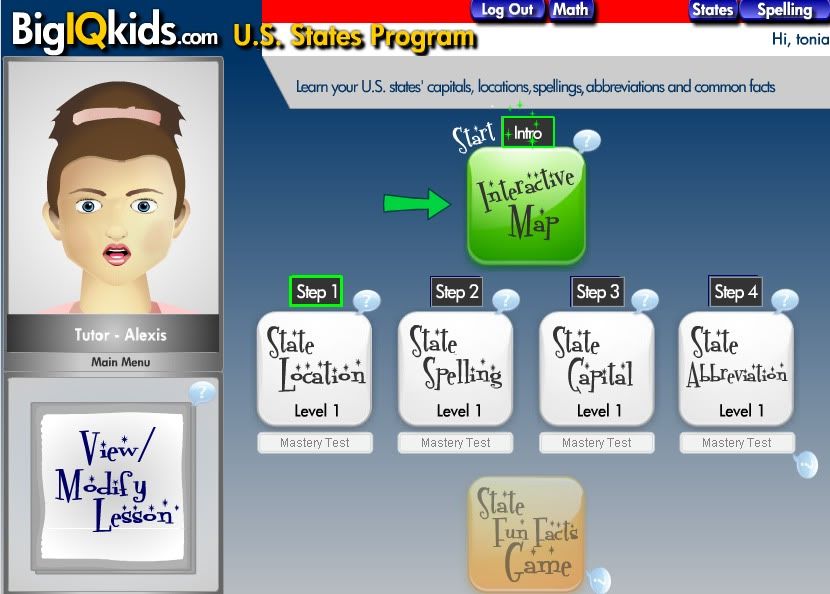 Big IQ Kids States
The U.S. Geography section is very thorough starting with the locations of each state (tackled 12 states at a time), state and capitals spelling, abbreviations and fun facts.
I was pleased to see this part of the program really helped my 5th grader with his capitals. However, this program didn't do so well for my 3rd grader. Her retention of facts and spelling was very low. We will be repeating these lessons again.

From their website: Every elementary student will be confronted with the need to know their US State facts to mastery. BigStatesTime is the ultimate tool in learning the state's location, capital, spelling, abbreviations and general state facts. The program allows parents/teachers to add additional facts which will be included in the child's lessons and the program culminates in a "State Mastery Exam" that, if passed with 100% mastery, awards the child a State Master Certificate.
For the most part we enjoyed Big IQ Kids. The lessons are short at 10-15 minutes each and the students only advance once they have proven mastery of that particular subject. I also liked the progress reports sent to my email. This was helpful in keeping tabs on problem areas where I could step in and adjust the level or spend extra time with them.
Starting from free to $49.99/year, there are several options in choosing the program that is right for you.
Click here to see all pricing options for the four subjects.
Below is a breakdown of Big IQ Kids Free and Premium programs.
FREE vs. Premium Spelling
FREE vs. Premium Vocabulary
FREE vs. Premium Math
FREE vs. Premium US Geography
Visit Big IQ Kids for yourself at:
http://www.bigiqkids.com/
Here's what other crew members are saying!
Disclaimer: I received a subscription free of charge in exchange for an honest review.