Ages 8+
2+ players
Retail: $18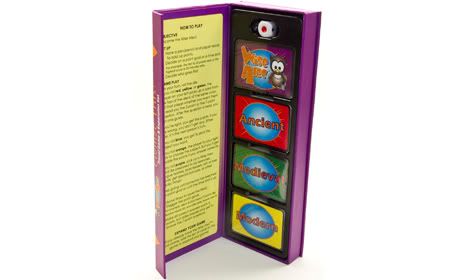 Wise Alec
From their website:
Cultural trivia with a adventurous twist!

Hello Time Travelers! Explore the world's cultures across time with the trivia game based on the award-winning Wise Alec™ Family Trivia Game. There are 300 questions to test your knowledge of Ancient, Medieval, and Modern cultures. Two levels of questions on each card let everyone from young scholars to history buffs play together. Plus, Wise Alec™ cards will have you doing tongue twisters, brain teasers, and fun exercises!

The cards from this game can also be used to expand your own set of Wise Alec™ Family Trivia Game.
Civilize This by Griddly Games is a fun, easy to learn, educational game for all ages.
The rules are easy. With pen and paper in hand (for score keeping), decide on either a point goal or time limit.
Roll the colored die. A

red

,

yellow

or

green

gets a card from one of the three corresponding time periods read aloud to you. (Ancient, Medieval or Modern History). Roll

blue

and YOU choose the subject. The player to the right of you chooses the subject if you roll

orange

. And, oh boy, if you roll a

purple

you get a Wise Alec Card. These cards vary from exercises, brainteasers, special bonuses or win/lose points.
What if your 7 year old wants to play with your older children? No problem! A unique feature of this trivia game is that each card contains a 3 point AND a 7 point question. By staggering the point goals, (Older siblings need 50 pts, and younger only 25 pts) the playing field is leveled for all to enjoy.
Using this method, our whole family enjoyed this games and asked to play again.
I can't think of a better way to get more history into your home while having fun!
Visit the Griddly Games website at
http://www.griddlygames.com/
to see Nature Nuts and Sports Buff travel trivia games also in this series.
Here's what other crew members are saying.
Disclaimer: I received this item free of charge in exchange for an honest review.